My Subtle Pumpkin Brownies

I call these pumpkin brownies subtle, as the taste of the pumpkin is not overwhelming, but the texture is wonderful, particularly with the addition of small chunks of dark chocolate which everyone seems to love, as whilst they melt into the brownie, there are a few bits that still retain a slight crunch. You can use chocolate chips or even white chocolate chips to give a different colour and taste.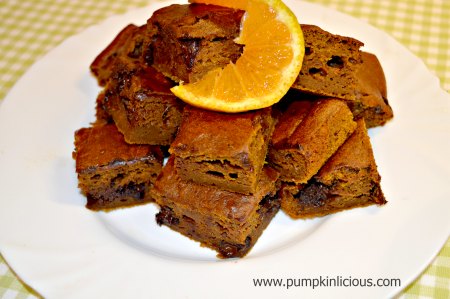 While staying with an old friend back in the UK, we ran a 'Brownies for Brownies Day' with a competition for the most unusual recipe. It was a truly lovely experience, with the children making different flavoured brownies with all kinds of additions. Brownies in the UK are the same as 'Girl Guides' or Girl Scouts' in other countries with age groups varying from country to country. Brownies (cakes, not the children!) are a great way to fund raise, as well as being able to eat any leftovers!  We had every possible concoction going on, including chilli chocolate and Eastern spiced which included a hint of Indian spices such as curry powder! I am sure the mums took part in this inventiveness!

Serves:   12 medium pieces            Prep Time:  10 minutes
Cook Time:  20 minutes

Ingredients:

1 cup self-raising flour
1 tsp baking powder
2 tbs cocoa powder or drinking chocolate
1 tsp ground allspice
1 tsp cinnamon
½ tsp ground nutmeg
Two-thirds cup of soft brown sugar
½ cup of pumpkin puree
2 large eggs
2 tbs vegetable oil
Third cup of dark chocolate, cut into very small pieces or chocolate chips

fMethod:

Preheat oven to 340°F/170°C/Gas mark 4. Line a 9 x 9in/23 x 23cm baking dish with foil, or spray with vegetable oil (we find it best to line with foil).

Whisk together flour, baking powder, cocoa, and all the spices. In a separate bowl, beat together the brown sugar, pumpkin, eggs and oil. An electric mixer is better, but if you are able to whisk quickly with a hand whisk, this will suffice as long as you combine all the ingredients thoroughly.

Fold in the chocolate pieces, so they are evenly distributed through the mixture.

Pour into the baking dish and bake for 20 minutes or until the centre is firm and a knife inserted into the brownie mix comes out clean. Leave to cool.

Once cool, use a sharp knife to cut into slices. Keep a bowl of warm water near you to dip the knife to ensure clean cuts.

Serve dusted with icing sugar if you want, with fresh strawberries, cream, clotted cream or delicious and 'very' vanilla ice cream.
For lots of more pumpkin cake recipes click here
Return from Pumpkin Brownies to Pumpkinlicious Home Page

---