Pumpkin Custard -
Sophisticated and Classic

Pumpkin Custard is a sophisticated take on an old classic recipe. . .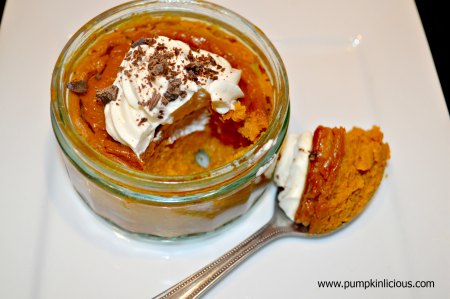 When having my intelligent moments (and yes, they are few and far between!) I am quite interested in the history of food as you may have noticed from some of my posts. There are some great books out there, which are not only interesting, but also lots of fun to read – if someone told me at school that history could be fun, I certainly would have treated them with disdain, particularly my teachers! I love this kind of history – if it involves food, one of my favourite subjects, then I should go to top of the class. Which king died in which year or other facts of no relevance to me leave both my brain empty and my stomach rumbling!

I also tended to regard custard with the same kind of disdain when it was served at school lunches in England – usually at one of two ends of the scale- pretty thick, tasteless and strewn with lumps, or thin and wishy-washy, and still strewn with lumps – the pale colour of the huge bowl that sat behind the serving counter was enough to finish me off, even before afternoon lessons commenced. Fortunately, we have moved on in terms of custard preparation and found new and innovative recipes, not least of which is our pumpkin custard, which is baked in the oven. These are pretty quick and easy to prepare, and can be made in advance. The texture of the custard is thick and creamy, but the emphasis is still on the pumpkin.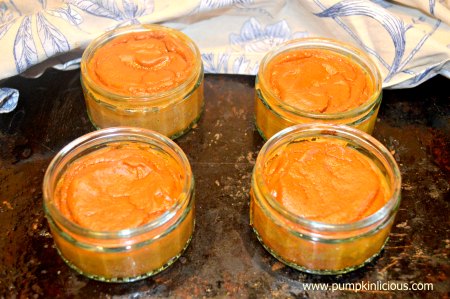 I find it better to make these custards in individual ramekins. They bake really quickly and are even throughout the custard, whereas a larger one can take some time to cook and still be difficult to monitor in the middle, making it a little hard to not burn the outside edge. 5oz/140g dishes seem to provide the best results as far as I am concerned. Vary your toppings, to add more interest – try chewy toffee bits, honeycomb or even crystallised fruits. They look more attractive in prettily decorated smaller dishes.
Serves:  4           
Preparation Time: 10 mins

Cook Time: 30 mins           


Ingredients:

15oz/420g can pumpkin puree
1 1/2 teaspoons pumpkin pie spice
1 cup/240g/8oz whipping cream
1 cup/170g/6oz light brown sugar
2 eggs
Extra whipping cream for topping (if required, but looks nice anyway!)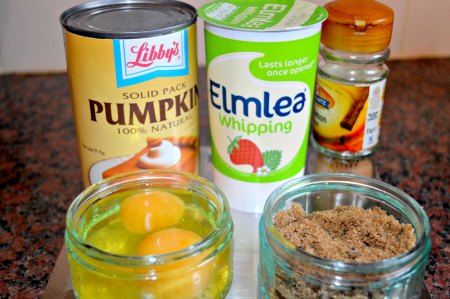 Method:

Pre-heat the oven to 300°F/150°C/Gas mark 2.

Combine the ingredients (excluding the additional cream) and whisk together until the mixture becomes smooth.

Oil or lightly butter four 5oz/140g ramekins (you can use baking dishes as an alternative). Evenly divide the pumpkin custard mix between the 4 ramekins. Place the dishes onto a baking sheet  and bake for 30 to 35 minutes, or until the middle is just set but still has a little "wobble" to it.
Let it cool for around fifteen minutes, perhaps a little longer.

You can also whip up the remaining cream and serve the custards with whipped cream. Top this off with a little shake of pumpkin pie spice, or a dusting of icing sugar. Chocolate curls also look lovely on the top.

For more delicious pumpkin desserts, click here
Return from Pumpkin Custard to Pumpkinlicious Home Page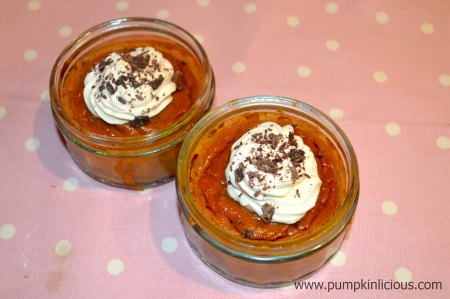 ---