What is the best Pumpkin Spice Coffee in 2022?
Since its iconic entry into timeless pop culture, pumpkin spice coffee has spawned countless incarnations exhibiting enticingly addictive blends of flavors and aromas.
Yet the classic smooth, silky texture and spicy pure pumpkin subtly enhance every roast of coffee in such a way that you can't help yourself from coming back for another cup.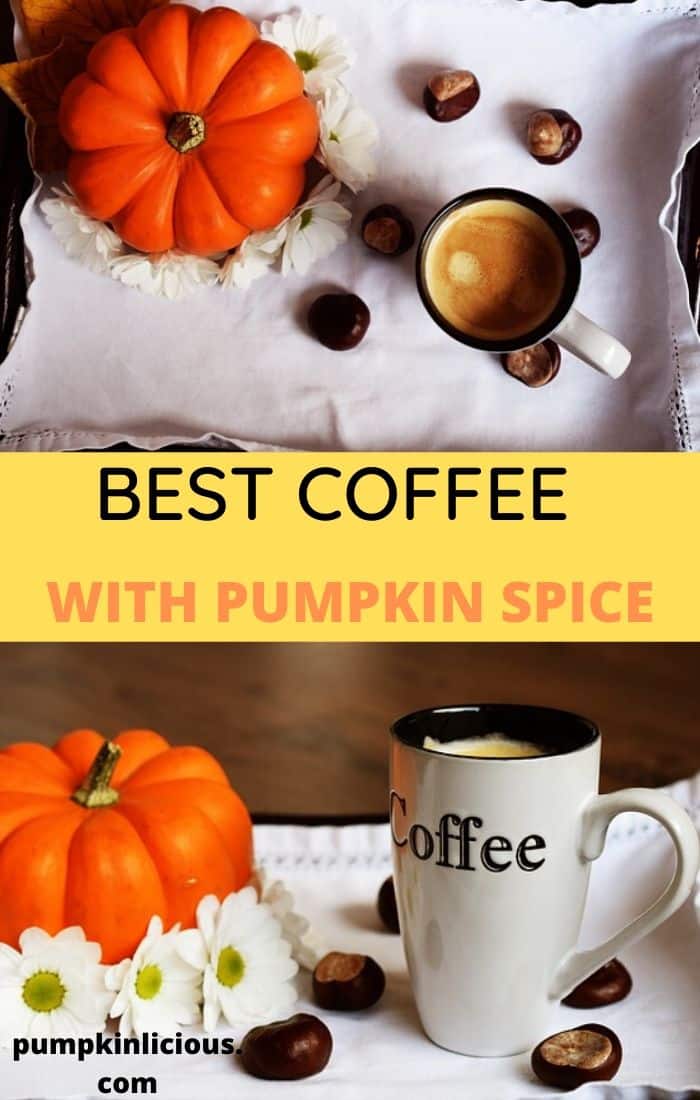 This classic fall comfort drink is a treat which you can indulge in throughout the year, removing the need to flock to Starbucks and the like each season.
By the way I need to tell you that the Starbucks Pumpkin Spice Latte goes on sale on August 27th if you really feel the need to get one (before that though you might want to check out the number of calories of the Pumpkin Spice latte with cream!)
However it works out much cheaper and more convenient to make your own!I have to admit sometimes I need a sweet coffee to get me going in the morning before I even get out of my PJs so good to have it to hand in the house.
It is also good if you fancy a day in the house but cannot do without your favorite Fall coffee! I always have pumpkin k pods to hand and make sure I buy them in bulk, because they are cheaper and I hate the thought of running out!
The best pumpkin coffee brings blissful blends of pumpkin, nutmeg, cinnamon, and more across varying strengths of filter-fresh coffee. If I am feeling indulgent I sometimes add some whipped cream on top!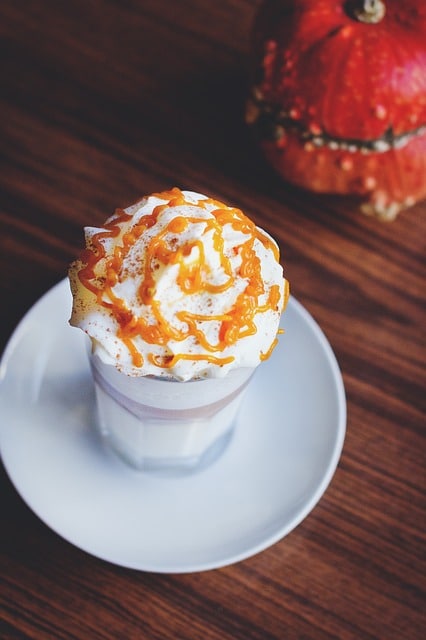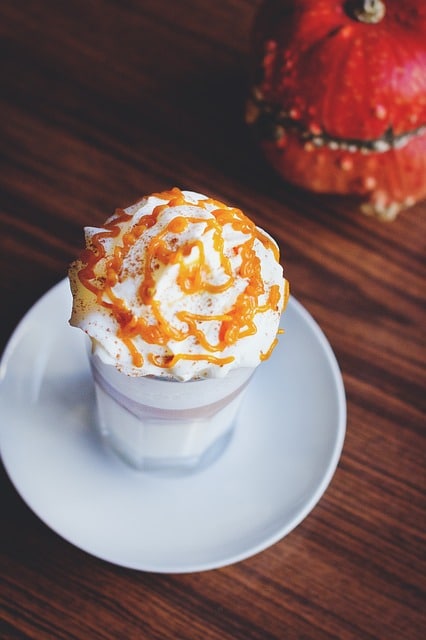 Here is an overview of the best pumpkin spice coffees available, at the best prices.
I have included the reviews of some of the most popular best Pumpkin coffee brands and I hope you like them as much as I do!
Caza Trail Pumpkin Spice K Cups  - 24 Single Servings
Caza Trail boasts a tasty range of flavored coffees and teas specifically designed for your Keurig K-Cup Brewer.
Their single serving pumpkin spice coffee is the ideal blend for those looking for a light roast, and the perfect choice for those who typically find this type of coffee overwhelming.
Here we'll be showing you what makes Caza Trail Pumpkin Spice Coffee one of the best brews for any time of the day.
Pros
Sweetened with Stevia Extract – No Added Sugar
Keurig K-Cup Brewer Compatible
Mild but Strong Medium Roast Coffee
Even Blend of Coffee, Pumpkin & Spice
Great Affordability
Cons
Caza Trail pumpkin spice coffee grounds review
This pumpkin spice flavored coffee is one of the smoothest blends I tasted. Working in any 1.0 or 2.0 Keurig K-Cup Brewer, each cup is well-manufactured, retaining its coffee grounds well without an excessive amount of spillage into your beverage.
One can't fault the value for money, although strong-coffee lovers should consider another option. While not delivering the strength and toastiness of 100% pure unadulterated Arabica, this pumpkin spice coffee does pack a good amount of body and fullness.
Mild, rich & woody
Despite having just Stevia Extract added, pumpkin spice coffee from Caza Trail has a slightly syrupy sweetness, reminiscent of brown sugar.
It leaves an aftertaste like that of a dark roast while never becoming overly sharp or having the boldness carry through to the body of the blend.
A clear smoky aroma brings a bitter contrast to this coffee's full flavor. It is far richer than most would expect from a light roast.
Light & subtle for all day enjoyment
Kosher certified, supremely convenient, and suited to any time of the day or night, Caza Trail Pumpkin Spice Coffee is a delightfully delicate blend with a mild acidity.
Blended from a range of Latin American Coffees, each serving is strong enough for a single cup for most. Yet, certain people will prefer an even lighter beverage and brew it twice.
It's among the best for those who love the autumnal flavor so much that they'll be drinking it all day.
Dunkin Donuts - Best Pumpkin Spice Ground Coffee
The Dunkin Donuts pumpkin spice coffee is a finely ground, strong fresh brewed taste which can compete with the best pumpkin spice coffee that leading restaurants have to offer.
Dunkin Donuts delivers dark, full-bodied flavor with subtle hints of pumpkin and just the right amount of cinnamon and nutmeg.
Here's a closer look at Dunkin Donuts Ground Pumpkin Spice Coffee, one of the very best blends sold. I might have to treat myself to one of their donuts sometime soon too 🙂
Pros
Sugar & Gluten Free
Flavor Superior to Store-Bought Pumpkin Spice Coffee
Medium Roast Coffee with Dark Roasted Undertones
Full Blend of Both Hints of Pumpkin & Coffee
Light Undertones of Cinnamon & Nutmeg
Ground Coffee Gives Great Versatility
Cons
Slightly Higher Cost Than Competing Brands
Dunkin Donuts ground pumpkin spice k cups review
Delivering authentic undertones of pumpkin and spice, one cannot fault this medium roast coffee made from 100% Premium Arabica beans.
The aroma is pure and the flavor is rich and full, while not strong enough to be considered a true dark roast. It is much stronger than most competing medium strength blends, but light enough to be enjoyed many times a day.
Available during autumn only, Dunkin Donuts has done a great job of replicating the undertones of pumpkin and spice present in their store-bought seasonal treat.
Bold guilt-free pleasure
Pumpkin peeks through with hints of flavor, while the medium-roast Dunkin Donuts coffee is highlighted by just touches of spice. Another perk to Dunkin Donuts Ground Pumpkin Spice Coffee is the fact that it is both sugar and gluten free.
The body of the blend is far from sweet but definitely not bitter, with the only drawback being that it is not available in decaf.
Each cup is free from calories thanks to being artificially flavored, while the flavoring itself mimics natural aromas and tastes near-identically. You'd never tell the difference.
Full, strong & awesomely addictive
Most who try Dunkin Donuts Pumpkin Spice Ground Coffee soon find themselves attempting to order enough to last them throughout the year.
You may notice that pricing is at a slightly higher point than other competing brands. However, this is still a bargain seeing that Dunkin Donuts have surpassed the flavor of even most prestigious blends of coffee available.
I am a major coffee snob and I can tell the difference between different brands, when I get something I like nothing else can compete.
Even those who are die-hard dark-roast fans find themselves falling in love with this great pumpkin spice coffee.
Green Mountain Pumpkin Spice Coffee Pods For Keurig Brewers
For 100% Arabica single-serve pumpkin spice coffee pods with unbeatable flavor and a distinctive seasonal sweetness, look no further than the Green Mountain Coffee K-Cup for Keurig Brewers blend.
Each pack gives you 24-single serve cups which are filled perfectly and free from over-spill.
Rich and aromatic, this pumpkin spice coffee is both naturally and artificially flavored, with a clear spicy undertone and aftertaste for each serving.
Here's a closer look at this delectable dessert blend from Green Mountain pumpkin spice ground coffee
Pros
Keurig K-Cup Brewer Compatible
Sugar Free
Delicate Light Roast Coffee
Strong Highlights of Spice
Cons
Pumpkin Flavor Could Be More Profound
Largest Possible Cup Size for Most is Just 6 Ounces
Green Mountain pumpkin spice coffee review
As a light roast, Green Mountain Pumpkin Spice Coffee is extremely mild, focusing on the full flavor of sweet spiced pumpkin rather than roasted coffee beans, yet at the same time being completely free from sugar.
Each serving boasts a far fuller spiced pumpkin flavor than competing brands, while blending blissfully with sugar and cream. Pumpkin flavored coffee at it's best!
Their coffee is pure with an emphasis on spice. Thanks to its distinctive medley, many opt to add extra cinnamon to highlight the key undertones.
Extremely light dessert - best pumpkin spice coffee k cups
Green Mountain Pumpkin Spice Coffee is affordably priced and offers outstanding value for money. You won't get two cups out of a serving but each 24-pack is priced very competitively.
It features a light roast with an equally light pumpkin flavor with absolutely no bitterness. For the very same reason, this is not a blend suited to enthusiasts. Instead, it works wonderfully both as iced and dessert coffee.
Mild, spicy & smooth 
If you want a strong, full-flavored blend with that unmistakable dark-roasted taste, then this is not the right coffee for you. However, if you want the best featuring bold spicy highlights and a smooth, light flavor, then Green Mountain Pumpkin Spice Coffee delivers a versatile blend which will not disappoint.
It is mild at a six-ounce serving and gets lighter as your cup gets larger. Even so, the aroma and punch of pumpkin, cinnamon and nutmeg is unmissable, and irresistible.
Which Is the Best Pumpkin Spice Coffee Beans for Me?
Pumpkin spice coffee does not typically come in a dark roast. This being said, Dunkin Donuts has the best for those who prefer bold, strong flavors. If you are getting hungry with me talking about Dunkin Donut you might want to try my Pumpkin Donut Recipe.
It is still mild but manages to deliver a dark, toasted sense of richness with a slight bitter undertone. And thanks to being a ground version, it is also the most accessible.
The lightest blend of pumpkin spice coffee we reviewed is from Green Mountain. It is far too light for anyone who is looking for the typical taste of regular filter.
If you want a good medium blend which is neither too bold nor too light, then give Caza Trail Pumpkin Spice Coffee a try. You will need a Keurig K-Cup Brewer though.
I am off caffeine, are there any Pumpkin Spice Decaf Coffee K Cups?
Some people do not take caffeine or restrict their caffeine intake. Perhaps you are pregnant and are craving a pumpkin spice latte but not want the caffeine; goodness last time I was pregnant I did not get to enjoy one single coffee!
Maybe your tween wants a pumpkin spice coffee and you do not want them having any caffeine but still want them to be able to enjoy this glorious Fall coffee!
If so I have found one recommended decaf version that comes highly rated. I am not sure if I would say it is the best decaf pumpkin spice coffee as I do not know of any others.
Make Best Pumpkin Coffee by Adding Pumpkin Pie Syrup to your Normal Coffee
If you have a particular brand of coffee you cannot live without you might want to simply buy some pumpkin syrup and add a small teaspoon to your normal coffee. You can add more or less depending on your taste!
Whatever way you do it I hope you get your pumpkin spice fix this Autumn!
If you like this you might also enjoy these other Pumpkin Delights
Pumpkin Spice Cake - will help you make a cake which will go perfectly with your hot drink
Pumpkin Spice Brownies - these are a firm favorite with adults and kids alike
Easy Pumpkin Coffee Cake recipe - the perfect treat with a spice latte
Pumpkin Mocha Cupcakes - perfect blend of coffee and pumpkin in a delightful cupcake
Planning a dinner party then you need some delightful pumpkin cocktails for your guests.
If you love tea too, you might be interested in buying some Pumpkin Tea sachets!
I love my lattes but I can only take one a day, but as for tea, I could drink several times daily! I also have friends who do not like coffee but practically live on tea so these pumpkin tea drinks would be perfect for them.


Pin the Best Pumpkin Spice Coffee Beans for later