Folks it's that time of the year again, Fall when we are greeted with a plethora of red, orange and more orange in the form of pumpkins!
There is no better time to get stocked up with some great outdoor pumpkin decorations to celebrate Autumn. I love seeing the splash of color in people's gardens, plus the kids get so excited by outside décor!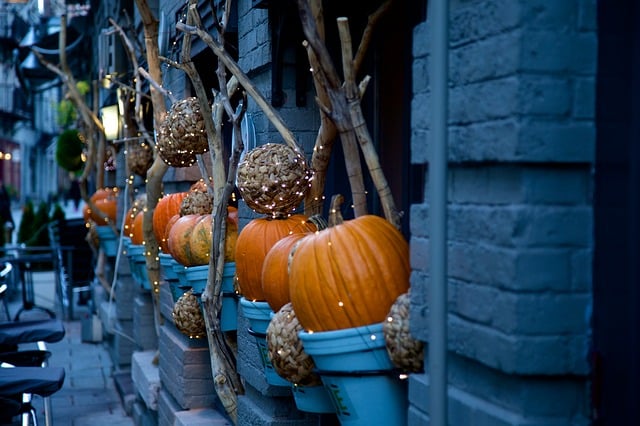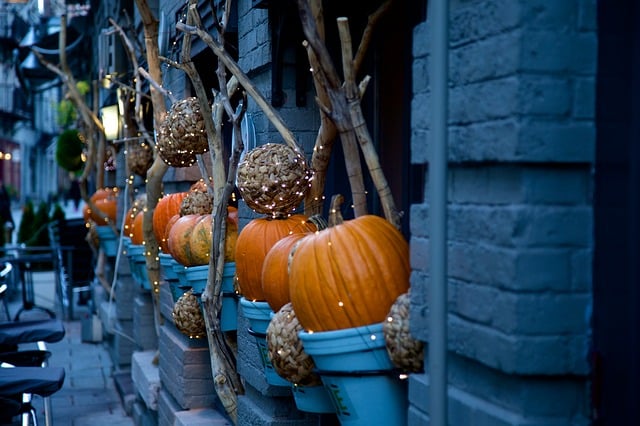 There are an immense range of outdoor pumpkin decorating ideas which are suitable for all of Fall or just Halloween. These can be brilliant if you are having a Halloween party.
Most people in the USA have massive get togethers over Thanksgiving and outdoor Fall pumpkin decorations go down a treat.
Large Outdoor Pumpkin Decorations
If you have a giant backyard you are going to be needing some large outdoor pumpkin decorations that really stand out!! Perhaps you might even grow pumpkins in a pumpkin patch (this is an awesome decoration in it's own right).
Pumpkin Wreaths for your Front Door
One of the most welcoming ways to greet someone at your house is to have a beautiful pumpkin wreath on your front door. Don't be surprised if your visitor does not ring the doorbell straight away as they may be admiring your Pumpkin home décor.
Of course these are made alongside fall leaves, pine cones, and beautiful Fall flowers. Currently my kids are decorating some cardboard pumpkin wreaths but they will not look as good as these ones, plus there will be a disagreement as to who's goes on the front door; we might have to do alternate days to keep them both happy 🙂
These come in different sizes with the most common being 22 and 26 inch. Take a look at the best ones in my opinion.
VGIA 22 inch Artificial Fall Wreath Fall Maple Leaves,Pumpkins with Berries

22 Inch Fall Wreath, Autumn Maple Leaf Harvest Thanksgiving Door Wreath

Festive Fall 26 inch with Leaves and Pumpkins Wreath Front door Decoration

Outdoor Lighted Pumpkin Decorations
Lights, camera, action, well not really but you get the gist. Lighted pumpkin decorations look fabulous outside! Lots of people decorate their backyard for Christmas so why not for Halloween.
I would set light up pumpkins around the front door and lights around the windows outside.
JOYIN Set of 6 Light up Halloween Jack-o'-Lantern Decorative Pumpkin Foam Halloween Decorations Props

One Holiday Lane Lighted Twig Pumpkin with Maple Leaves - Harvest Fall Decoration

TOOWELL Halloween String Lights Jack-O-Lantern Pumpkin Lights Battery Operated 10LED

If like us you have a long laneway you might want some light leading towards the house. I adore the large pumpkin inflatables which are a good size to have at the top of your lane; hopefully they will not scare off your guests! These are good examples of giant outdoor pumpkin decoration.
LAOSSC 6 Foot Halloween Inflatable Pumpkin with 3 Ghosts Halloween Decorations for Indoor and Outdoor - Lanterns Lighted Holiday Home Décor

Athoinsu 4ft Lighted Halloween Pumpkin Lantern Inflatables 3 Jack-O-Lanterns Self-Inflating Air Blown up Holiday Display Party Decoration (Style 1)

VIVOHOME 5ft Height Halloween Inflatable LED Lighted White Ghost with Pumpkin Lantern Blow up Outdoor Lawn Yard Decoration

9 Foot Tall Halloween Inflatable Castle Archway with Pumpkins and Ghosts LED Lights Decor Outdoor Indoor Holiday Decorations, Blow up

How about decorating your backyard with some carved pumpkins
If you are good at carving pumpkins, why not display some of these in your porch or outside your front door! We have a tiny forecourt which is perfect for this!
Our Pumpkin cat face always gets lots of compliments! People are always asking what is it's Pumpkin name for it!
Of course if you do not like sharp carving tools why not display some painted pumpkins!
More of my Favorite Outdoor Pumpkin Decorations
Honestly I could list hundreds of products but I thought I should not bombard you, so here are a few more of my favorites!


Have you any other Great Outdoor Pumpkin Decorations?