This creative and unique pumpkin soup in a pumpkin recipe is so simple and fun to eat! Once you eat it in a pumpkin, you won't want it any other way.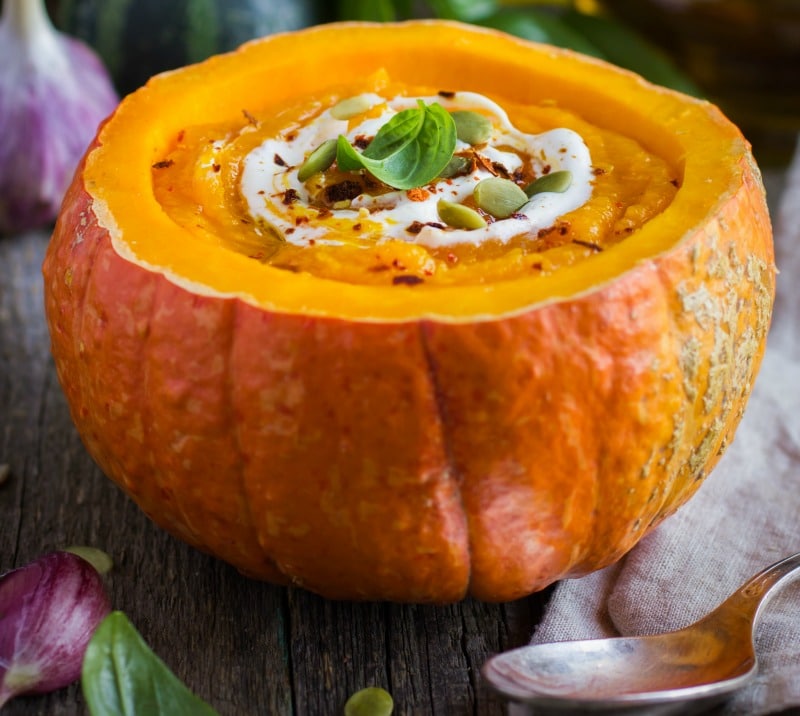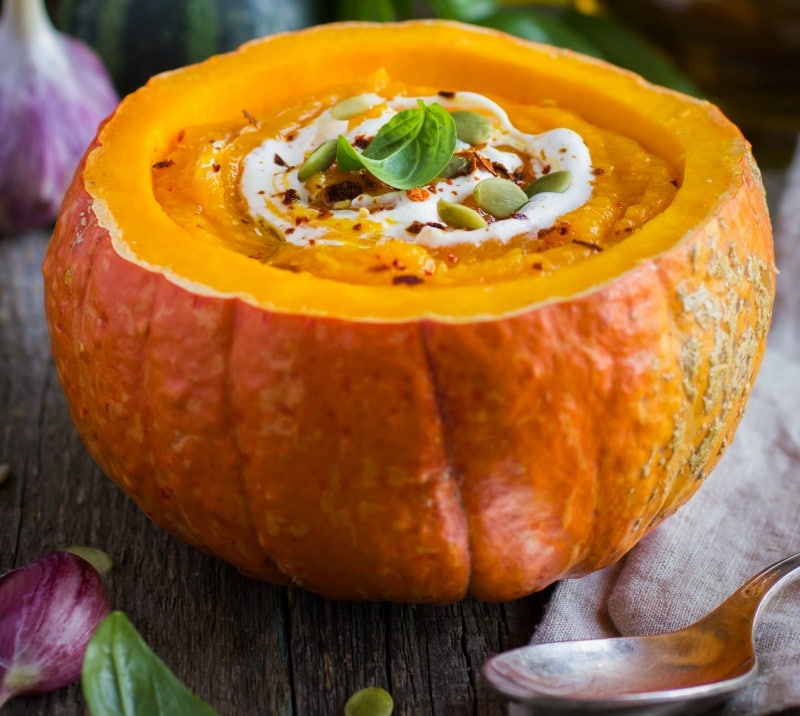 Who wouldn't want to eat their soup straight from the pumpkin? It seriously sounds like so much fun and unique! A break from the norm is always good!
How To Make Pumpkin Soup In A Pumpkin
This nifty soup in a pumpkin recipe is from one of my favorite books: Barbara Kingsolver's Animal, Vegetable, Miracle. It's as fun to make and serve as it is to eat.
Adapted from "Pumpkin Soup in Its Own Shell" (from the above book).
I LOVE the presentation of this soup: it's perfect for a special family dinner, or a night with friends.
I'd choose smaller pumpkins for this, so everyone can have their own "pumpkin bowl". But you can also use one of those large pumpkins that will hold enough soup for the entire family.
No matter how you choose to do it, it's something special 😉
With just a few simple ingredients, you're well on your way to a delicious fall soup: pumpkin, garlic, fresh sage are the main ingredients.
*Should your pumpkin overcook and/or a mishap like puncturing it or pumpkin collapse occur -- return liquid to the pot, add flesh and blend with an immersion blender.
Have fun making this! How many times have you ever seem something so cool? Typically, soup is served in a bowl, or possibly even in a bread bowl...but now, you can really wow for your family and friends by serving them in a pumpkin.
You can buy mini pumpkins for the kids so that they do not miss out on the fun!! Alternatively you can buy pumpkin shaped soul bowls which you can use over and over again!! Watch your kids gobble this up when it is in a fancy bowl.
Perfect for fall, or a fun party at the house, you'll love being able to show off your cooking skills with this super unique recipe. Be ready to hand out the directions because everyone will want to know your secrets! (It's fun to share, take it as a compliment!)
Yield: 8
Pumpkin Soup Served In A Pumpkin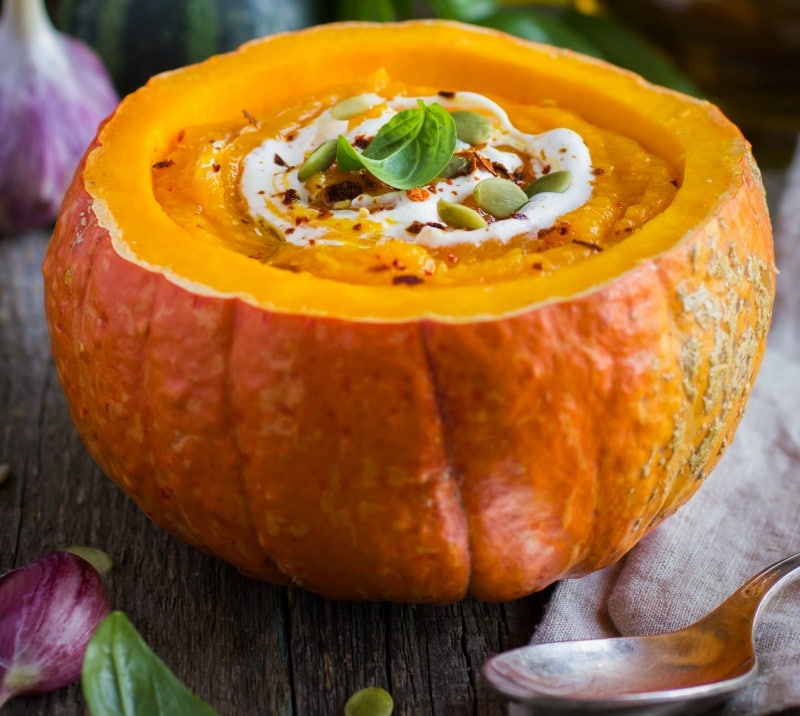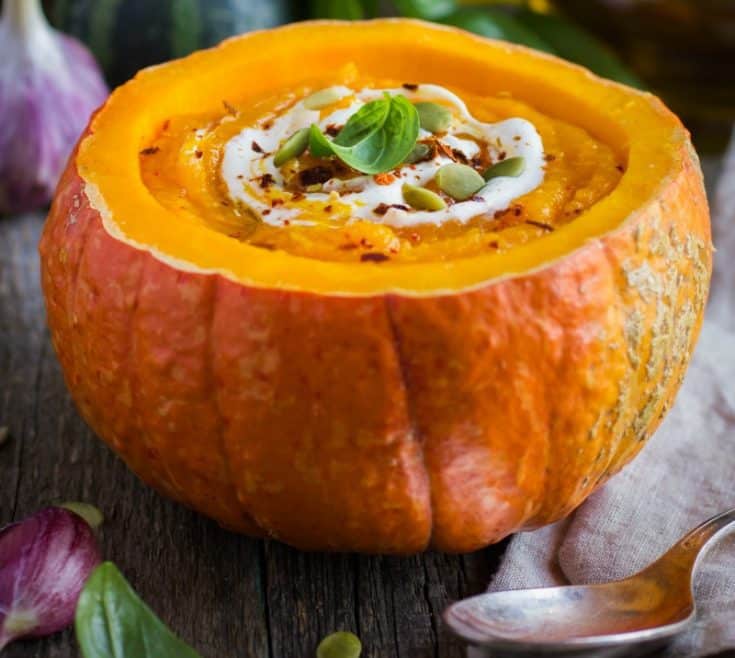 This pumpkin soup cooked in a pumpkin is so easy and fun, you'll never want to use a bowl again!
Total Time
1 hour
20 minutes
Ingredients
1.5 lb pumpkin (adjust liquid if larger/smaller)
1 head roasted garlic
1 quart organic chicken or vegetable broth
1 quart almond milk (or other non dairy beverage or milk)
½ cup fresh sage (less if using dried sage)
2 teaspoons salt
pepper to taste
Dash of red pepper (optional)
Instructions
Preheat oven to 375 F.
Cut a lid off the top of the pumpkin - a zigzag cut looks nice. Scoop out the seeds and all stringy parts. Rub the inside of the flesh with salt and a bit of sage. Set pumpkin on a large roasting pan.
Squeeze roasted garlic cloves into a large pot and add milk, broth, and seasonings. Gently mash the cloves into the liquid to combine. Slowly heat just to warm through and begin to marry flavors. Do not simmer or burn the milk.
Place baking sheet with the pumpkin on oven rack and carefully fill with warmed (not hot!) liquid mixture. Place a small piece of foil atop the opening and replace "pumpkin lid" to keep the lid from caving in while cooking.
Occasionally, stir liquid while cooking, gently scraping some inside flesh into the liquid.
Bake 1-2 hours depending on the size/thickness of pumpkin.
Have you ever had pumpkin soup in a pumpkin?
Here are more soups made with pumpkin: