Chocolate Chip Pumpkin Bread
Chocolate chip pumpkin bread just has to be the best pumpkin bread recipe I know. Who wouldn't want chocolate in just about everything!

This takes no time at all to mix, and about 1 hour 10 minutes in the oven. I can't think of anything better than adding chocolate to a wonderful pumpkin bread. It's a lovely guilt free way of sneaking some chocolate into your diet, while knowing that you are having some healthy vitamins and fibre in your pumpkin.

This recipe makes two loaves and the ingredients include: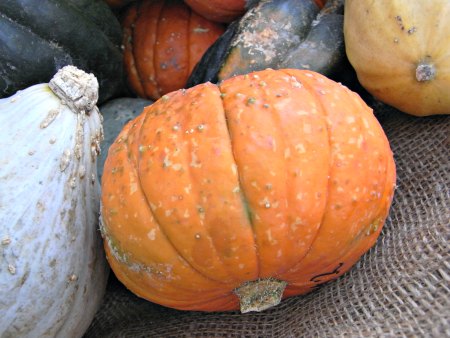 1 can of solid packed pumpkin (15 ounces) or use home-made pumpkin puree or mashed pumpkin
4 medium eggs
3 1/3 cups plain flour
2/3 cup of water
3 cups of granulated sugar
2 teaspoons of baking soda
1/2 teaspoon of baking powder
4 teaspoons of pumpkin pie spice
2/3 cup of canola oil
2 cups of semisweet chocolate chips (about 12 ounces)
1 cup of sliced and toasted almonds
1 teaspoon of salt
Combine all dry ingredients in a large mixing bowl. In a separate bowl, whisk together the pumpkin, eggs, oil and water. Moisten dry ingredients by slowly pouring them into the wet ingredients and stirring slowly. Finally, mix in almonds and chocolate chips.

Grease two nine inch by five inch loaf pans and pour equal amounts of bread mix into pans. Bake at 350 degrees F. for about 70 minutes. Use the toothpick test to determine when the bread is ready. Allow bread to cool for about ten minutes before attempting to remove them from pans. Each loaf serves 12.

How easy was that?

You can freeze these loaves by wrapping them in foil, and they can last for up to three months without losing moisture or flavour. But I'm not sure they have much chance of reaching the freezer in my house!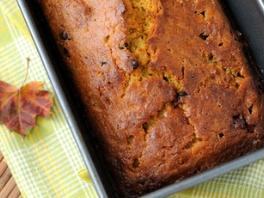 For lots more ideas: 

Return from Chocolate Chip Pumpkin Bread to Pumpkin Bread Recipes
---