Halloween Decorations to Make
It's that time of year again.
Time to decide what Halloween decorations to make.
Are you feeling artistic? Feel like having some fun?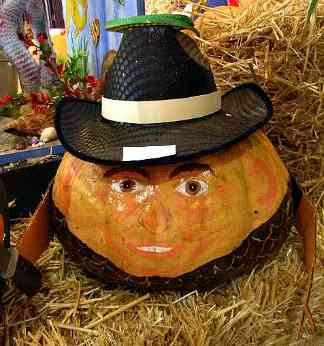 So choose the best from the Halloween pumpkins on sale at your local farm shop or grocers, and get decorating.

Now, I'm not a great artist, but I know some good ideas when I see them.

What about a gangster pumpkin, or a Dame Edna Everage? I love the romantic stagecoach pumpkin, and the little rabbit. And I think the Octopus pumpkin is really clever. And the Garfield is seriously cool.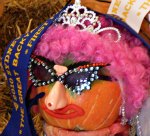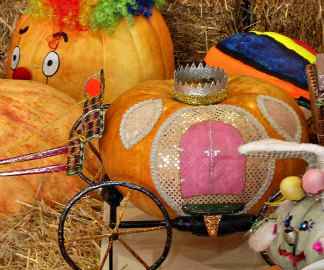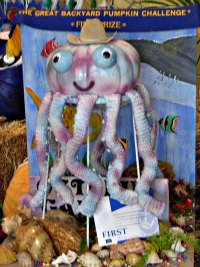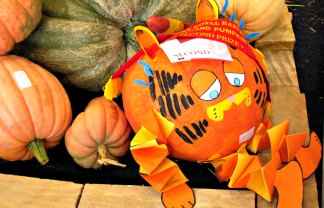 Of course, you can go more spooky and carve a ghostly face or a witch or a cat onto your pumpkin. There are some stencils and great ideas on these pages....
---
Here's a few more ideas to spook your guests with your Halloween decorating -

Why not hang up some fishing netting - it makes great cobwebs, and dangle some pipecleaner spiders just where they'll brush the heads of your guests and frighten the life out of them!

Use some large Halloween pumpkins like plant pots and put some tall bare branches in them. You can hang some spiders and bats and things from them too.

Get some large sheets of white paper or card and cut out some skull, ghost or skeleton shapes to hang up around the garden or house.


---
You know, I bet you have a lot better ideas than me! Why not share some of them with us below?

After the event, you can share your photos and show us all how creative you have been.

I took the photos on this page at various Sydney Easter Shows over the last few years. They have a pumpkin decorating contest, and there were some fantastic entries. If these wonderful creations are yours, thank you. Why not write and let me know how you got the idea, and tell me if you've made more decorated pumpkins this year?
Share your creative Halloween decorations with us here!
Halloween is fun, and it's time to get creative. But it's a shame if it all gets thrown away at the end of the holiday. So why not take some photos and save the memories for ever. We'd love to see what you have done, and hear how you celebrated Halloween.

If you share your story and/or your photos with us here on Pumpkinlicious, you will have your very own website page, and people will be able to comment and let you know how much they like your decorations. Then you can share it with your friends too.

So why not go ahead and submit your Halloween decoration ideas. It's very easy, and I'll check it for any mistakes before I put it live on the site.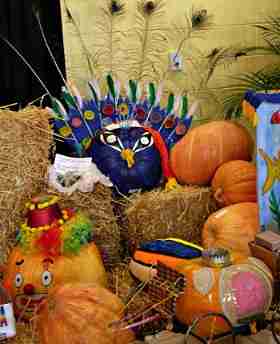 More Halloween Decorations to Make with Pumpkins
---