Pumpkin Damper with Walnuts
Pumpkin damper is a bit of an improvement on the classic Australian damper and makes it nice and moist. The walnuts add a nice bit of crunch.

This is a recipe from the Australian Women's Weekly. Damper is a kind of bread which would have been made on the campfire by the native Aboriginal people.

If you want to do it authentically, in a cast iron pan on a fire, it might come out looking something like this!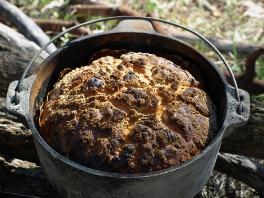 Nowadays it is often made on the barbeque.

If using fresh pumpkin you will need to cook and mash just over 1 1b or about 600g. If you're outdoors, you can cook the pumpkin on the fire or the barbeque and then mash it up in a bowl. It's probably easier to cook more than you need. You can use it up as mash or serve it up with your barbequed sausages. If you're at home, put it in the freezer for making pumpkin pie!


Serves 4 - 6

3 cups (450g) self raising flour
50g butter
1 cup (120g) chopped walnuts
1 1/2 cups cooked mashed pumpkin (or canned pumpkin)
1/2 cup (125ml) buttermilk, approximately


First, grease a 20cm round cake tin

Then, with your fingers, rub the butter into the flour in a large bowl.

Add the pumpkin, chopped walnuts and mix thoroughly. Stir in enough buttermilk to form a soft sticky dough.

Knead the mixture on a floured board until smooth.

Place dough onto the cake tin, and cook in a covered barbeque away from the direct heat.

It is done in about 30 minutes. To test whether it's done, give it a tap, and it will sound hollow if done.

If you're feeling less adventurous, you could also cook it in a moderate oven.

A great recipe for out and about on those camping holidays in the bush!
Return from Pumpkin Damper to Pumpkin Bread Recipes
---