Pumpkin Pecan Bread Recipe

This pumpkin pecan bread recipe is spicy, warm and moist, and really easy to make. I didn't have any pecans, so I used walnuts.
I made this pumpkin spice bread immediately after the one with the herbs and it's just as easy. By this time I was getting rather hot, being a woman of a certain age, in the kitchen with the oven on, singing and dancing around getting my ingredients together. So if you would prefer not to imagine a middle-aged nutter without a top on making this recipe, I quite understand.

Fortunately, preparation time was only about 15 minutes as I already had some cooked pumpkin on hand and I made it in the same big bowl I had out. Baking time was just under an hour and the bread is immediately ready to eat after baking, thank heavens.

Here are the gorgeous ingredients you need:
1 cup of pumpkin puree (mashed pumpkin) or use a can.
2 medium, beaten eggs
1/4 cup of cold water
1/2 cup of olive oil

Mix these wet ingredients together in a big bowl with a whisk.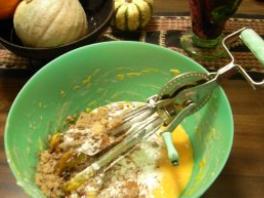 Add the rest of the ingredients and mix well.

1 1/2 cups of plain flour
1 cup of brown sugar
1/4 teaspoon of salt

1/2 teaspoon of baking soda
½ teaspoon baking powder

1/2 teaspoon of nutmeg
1/2 teaspoon of ginger
1/2 teaspoon of cinnamon
(You can use pumpkin pie spice mix if you want – these spices are what I fancied at the time).

1/2 cup of pecans (or walnuts), finely chopped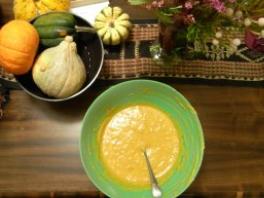 Pour into a loaf tin, about 9 inches or whatever suitable tin you have to hand and cook in the oven at 350 degrees Fahrenheit, or 180 Celsius.

A bit less than an hour and it was lovely and brown on top and a toothpick came out clean. I'd also cooled down enough to put my top back on you'll be pleased to hear. One has to be rather careful around the oven otherwise!

I couldn't resist trying it straight away. It's lovely and moist and the dark brown sugar really makes it special. Can't wait to try it cold too, and toasted.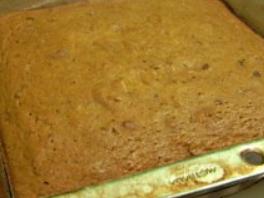 Return from Pumpkin Pecan Bread Recipe to Pumpkin Bread Recipes
Pumpkinlicious Home Page
---