This pumpkin cereal or porridge is a fantastic breakfast food for those who can't eat wheat or gluten, or who just fancy a healthy change.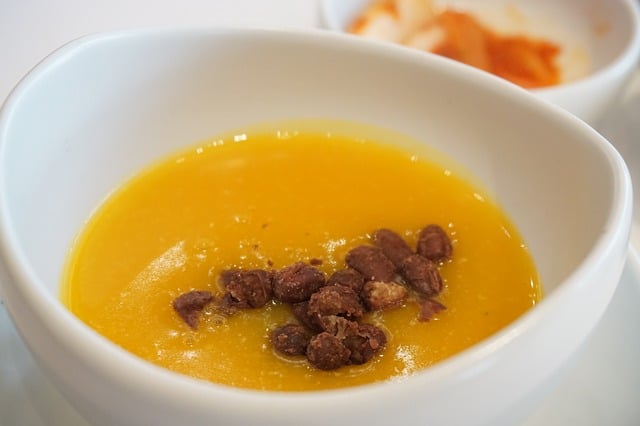 I was quite surprised at first when a friend of mine said she often has pumpkin soup for breakfast. I didn't think I could face a savory or spicy flavour in the mornings, but I liked the idea of incorporating pumpkin into a breakfast food.
So, this is what I tried. It's quick, yummy and very, very good for you. It's a great way of getting some orange veg into the children too. They will love it's bright colour and sweet taste. I always believe a good breakfast sets you up for the day and makes you less likely to have sweet cravings throughout the morning.
How to Make Pumpkin Porridge
I always have some mashed or pureed pumpkin on hand. I cook extra in the oven when I've got it switched on. Or you can microwave a big slice of pumpkin, or boil it up.
Make sure you don't overcook it if boiling and drain well or it gets watery. You can keep some in the freezer for up to three months. You can find out everything you need to know about cooking pumpkin here.
You can also used canned pumpkin if you are unable to get fresh. Make sure you buy the one which doesn't have pumpkin pie spices in it. It is extremely tasty in porridge but might be a bit strong for the kids.
I make up my porridge as usual and add one two cups of pumpkin puree, 1 mashed banana, give it a good mix, then microwave for around 2 minutes!
Serve with a dollop of plain yoghurt and drizzle with maple syrup or honey.
If you love spices, try a sprinkling of cinnamon on top.
In Korea they like to make their pumpkin porridge spicy with added chili! They also top it with pine nuts.
Fabulously indulgent and a great winter warmer. This breakfast is gluten free so long as you choose a GF yoghurt.
Check out my other pumpkin breakfast recipes, some of which are healthier than others:-
Pumpkin Smoothie Recipes - have a delicious drink full of goodness to start your day
Healthy Pumpkin Granola - perhaps you prefer granola over porridge
Easy Pumpkin Pancake Recipe - pancakes are a real treat first thing in the morning, especially with pumpkin
Will you be eating pumpkin porridge for Breakfast this Fall?