Pumpkin Pecan Pie

Pumpkin Pecan Pie brings together two quintessential American foods.  Both Pumpkin Pie and Pecan Pie are both famous classics of USA cooking, so why not combine the two?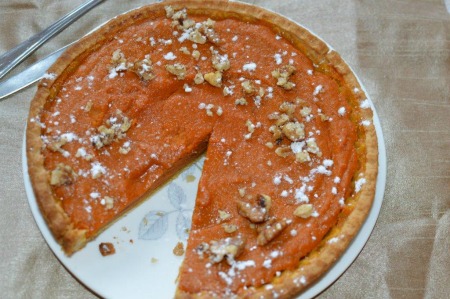 Today's pumpkin pie has evolved somewhat and is now seen in many different ways, with people adding their own 'twist' to any particular recipe, including crustless pies – I haven't tried that one yet as I feel you need pastry with this dessert and surely – wouldn't it be a pumpkin bake, or a pumpkin pudding without a crust?
I haven't quite got my head around crustless quiches yet – again, surely they would be thick omelettes or frittatas? Bit of a mystery to me!
However, here is a pumpkin pecan pie, original style, and I feel this one is not as sweet as some I have tasted. The addition of pecans gives a lovely texture to the pie.

(You need a 23cm/10inch loose-bottomed tart tin for this recipe)
Serves:  6-8               
Preparation Time:   20 minutes
Cook Time:       35-40 minutes

Ingredients:
350g/12½oz sweet shortcrust pastry (trust me, shop bought is fine)
450g/16oz pure pumpkin puree
140g/5oz caster sugar
½ tsp nutmeg (freshly grated is better)
1 tsp cinnamon
2 eggs, beaten
25g/1oz butter, melted
175ml/6fl.oz milk
110g/4 oz pecan nuts, chopped
1 tbsp icing sugar
Flour for dusting

Method:
Heat oven to 180°C/350°F/Gas mark 4.

Lightly flour your work surface and roll out the pastry to ½cm/¼inch thick or slightly thinner if possible, making sure you have enough to cover your tin. Place the pastry over your tin and gently press into the corners of the tin, leaving a slight overlap, which you can trim off, after baking the shell.
Chill for 15 minutes.

Line the pastry with baking paper or foil, and weigh down with baking beans. If you don't have baking beans, you can use dried pasta or rice.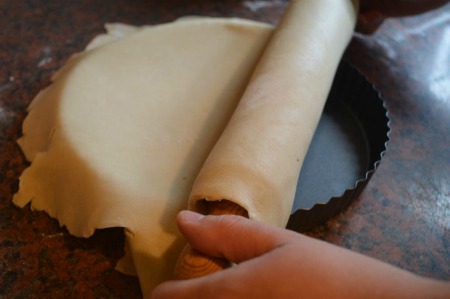 Bake for 15 minutes, remove the beans and the paper, and cook for a further 15 minutes, or until the pastry is lightly golden and firm to the touch. Remove from the oven and leave to cool enough so that you can trim off any overhang from the sides of the tin.

Turn the oven up to 200°C/400°F/Gas mark 6
Combine the pumpkin, sugar, nutmeg and half of the cinnamon together.
Stir in the beaten eggs and melted butter, followed by the milk and mix thoroughly. Lastly, put in the chopped pecans and mix through.
Pour the mix into the tart shell and smooth over. Cook for 15 minutes, then turn the oven down to 180°C/350°F/Gas mark 4. Bake for a further 30 minutes or until the filling is completely set.
Remove from the oven and leave to cool before taking the pie out of the tin.  Mix the rest of the cinnamon with the icing sugar and lightly dust the top of the pie.
Enjoy !

Click here for more Variations on Pumpkin Pie
Return from Pumpkin Pecan Pie to Pumpkinlicious Home Page

---