One of the best things about October 31st is the fabulous Pumpkin Halloween Desserts ideas 2022 that I get to enjoy!
There is something very comforting about sitting around a fire eating scrumptious sweet treats with your nearest and dearest. I try to make it an annual thing every Halloween!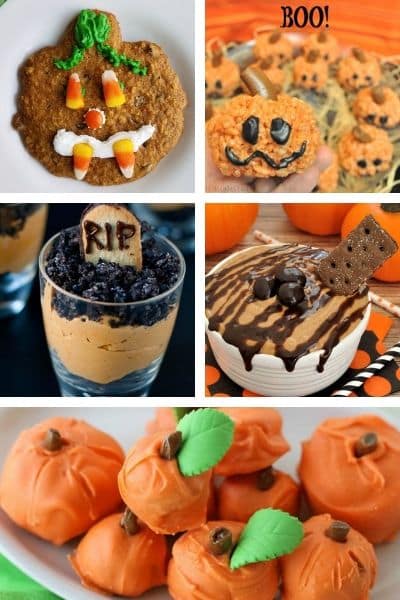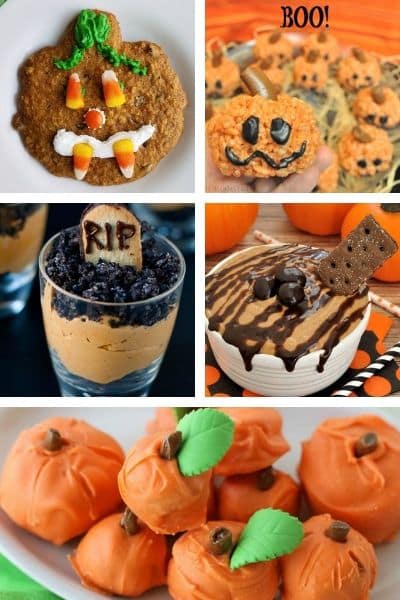 My friends and I always get the kids together and throw an amazing party with delicious food, party games and fireworks! Of course some of us wear our cute pumpkin costumes to get us in the true spirit of Halloween.
We all make something and end up with 6 or 7 desserts to try. I always make sure we have enough Tupperware containers so that we can split what's left and eat it the next day! Mind you there is never too much left because our Halloween Pumpkin desserts are SOOO GOOD!
I asked a few of my food blogger friends to share their best pumpkin dessert recipes for Halloween this year and decided to share them all with you!! I am generous like that! There are ones that include pumpkin and ones that look like pumpkins!
Fancy Halloween snacks and chocolates, what more could you want!!
I had to feature one of my own Pumpkin Halloween Desserts Ideas first, because it is simply the BEST (if you are a fan of cheesecakes like me). As you can see it even looks pretty! I can guarantee if you try this over the Halloween period you will want to eat it again before the end of Fall.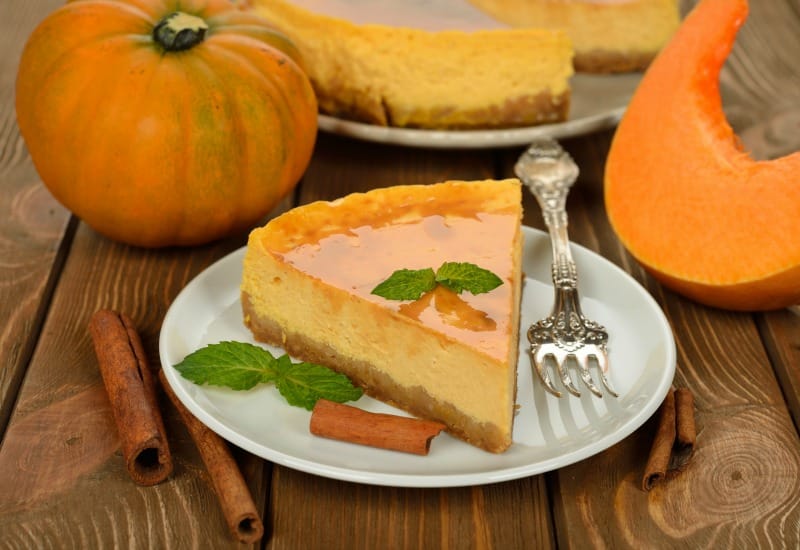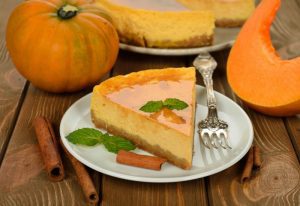 You can make this gluten free too so it is a good go to if you have friends with coeliac. The good news is you can make mini ones too if you are in a rush or if you want something separate for the kiddies!
Pumpkin Chocolates are one of Best Halloween Pumpkin Treats 2022
Hands up if you fancy some chocolate after your dinner?! Yep me for sure. Quite often I skip cake and go for a nice bar of chocolate. Kristina of Spabettie has satisfied my chocolate craving with her Pumpkin Chocolate Caramel Skulls!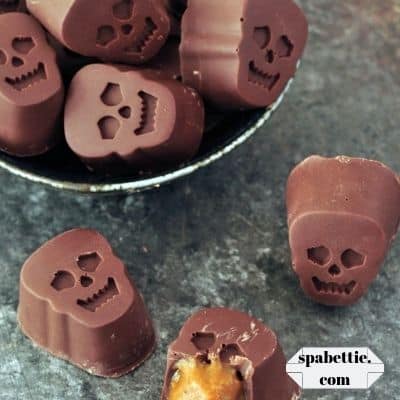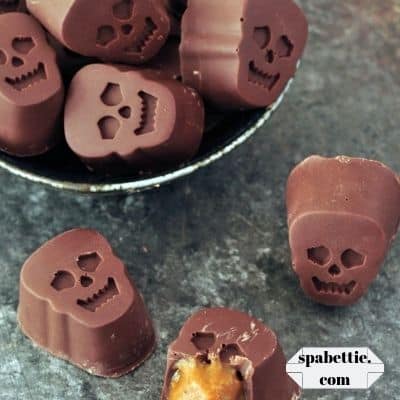 These are absolutely fabulous for Halloween parties or even as treats for kids who go trick or treating! They are nice and easy to make using only a few ingredients! I love the golden color of the caramel inside! These would also work well as a Pumpkin gift idea for someone who loves chocolate and pumpkin (i.e me).
She uses a Skull mold but you could replace this with any Halloween themed mold. These are readily available on Amazon!


Pumpkin Rice Krispie Buns
A party was not a proper party unless we had rice krispie buns! Almost every Birthday party I attended had these covered in milk chocolate. Little did I know a few decades later I would find a pumpkin version. The Grateful Girl Cooks has whisked up these Peanut Butter Rice Krispie Pumpkins for the perfect Halloween dessert!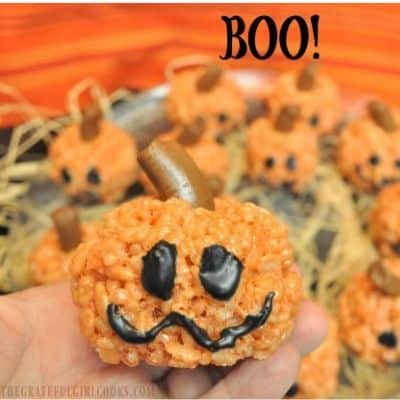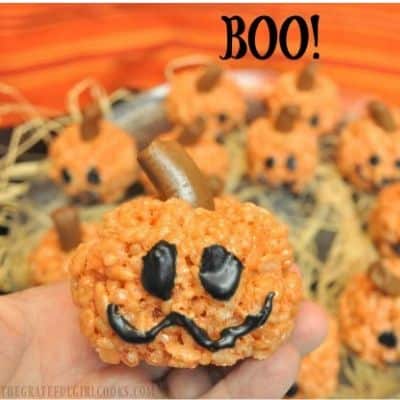 These look amazing and as the recipe is super simple your kids can even help. This would be a great thing to do over the Halloween holidays!! My little girl is mad about baking so this is something on our bucket list this October.
Pumpkin Spice Cake Balls
Nicole from Simple and Seasonal combined spice cake and cream cheese frosting to make divine pumpkin cake balls! These look pretty neat and will appeal to young and old.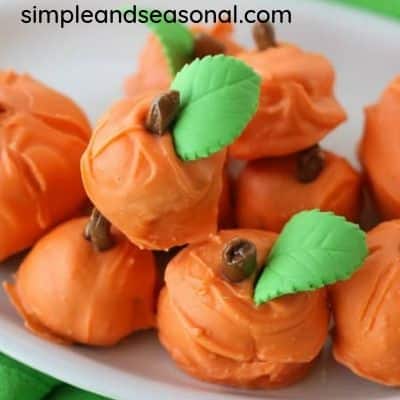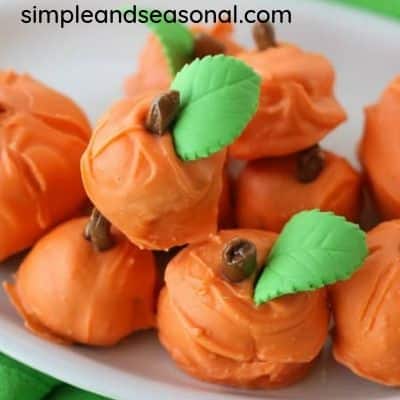 I cannot see these lasting too long in my house. They are definitely one of the best Pumpkin Halloween desserts ideas here. Of course they could be also used for a cuppa with the girls. I can imagine having these as one of my options for dinner desserts over Halloween or even Thanksgiving.
Mini Ghost Cakes Filled with Pumpkin
Everyone likes to be spooked at Halloween and these miniature ghost cakes with pumpkin are the perfect accompaniment to any Halloween party. Ashlee Marie has created these fabulous Halloween pumpkin desserts.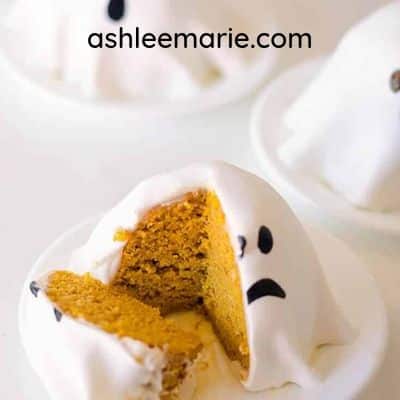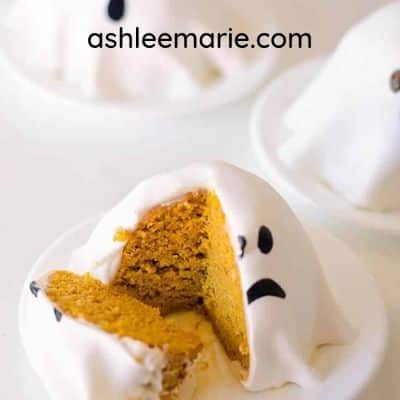 I would definitely recommend these as one of the best pumpkin dessert recipes for kids, but I know the adults will enjoy a nibble too. These are bigger than they look, so maybe share one between 2 kids!!
Pumpkin Jack O Lantern Cookies
Everyone likes some pumpkin cookies with a hot mug of tea after a big dinner, or at any time of the day actually. Cooking with Carlee came up with this fab Pumpkin Halloween Desserts Ideas. She shaped hers as a pumpkin and decorated them as Jack O Lanterns!!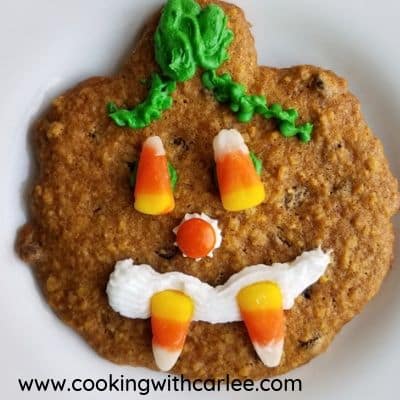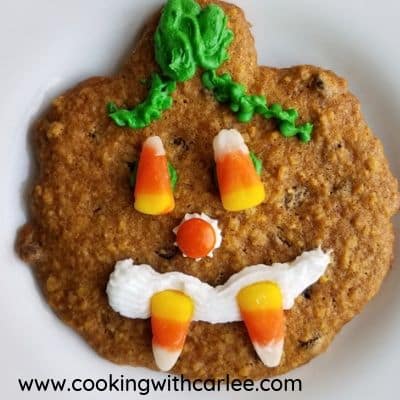 These are healthy alternative to some of the sweeter recipes on this page as they are made from oatmeal. You can decorate them with anything you wish, but Id opt for chopped fruits and vegetables.
I have to add this is one of the excellent Pumpkin Activities for Preschool! My 3 and 4 year old would have an absolute blast decorating these ; well that's if they didn't eat all my ingredients first 🙂
Pumpkin Dirt Pudding Graveyard Parfaits
The winner of best Halloween pumpkin dessert idea goes to Courtney of Neighbor Food for these delightful Halloween desserts. This is a combination of pumpkin, oreos and cookies!!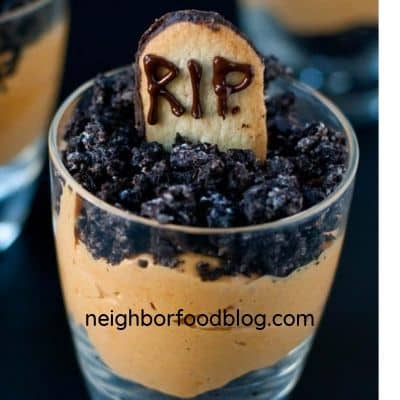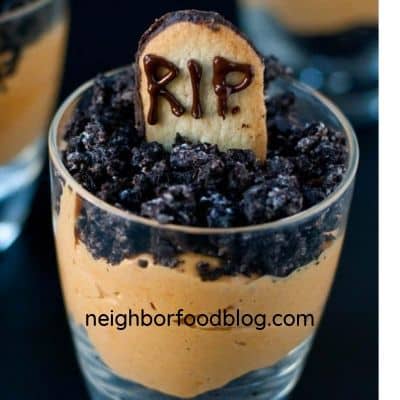 These would be fabulous at a Halloween party! I bet they wouldn't last too long!!
Pumpkin Mocha Dip is Ideal for Coffee and Chocolate Lovers
I absolutely love pumpkin dip recipes and have made several savory ones in the past. This one is fab as it is perfect for Fall dessert! It just oozes chocolate and reminds me of my days in the ice cream parlour.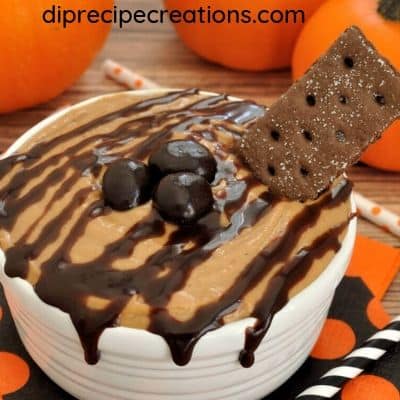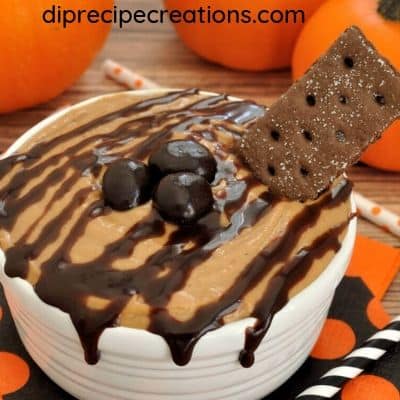 Darlene of Dip Recipe Creations is an expert at dips, yep no one does it better!! She created this wonderful delicious dip combining chocolate, pumpkin and coffee!
It is right up my and hubby's street as we are partial to the odd mocha or two!! Add in some pumpkin and it is the go to dip for Halloween. You could eat this alongside bread sticks for dessert or smear it over some warm toast before bed!
If you indeed want mocha recipes for Halloween I should direct you to my Pumpkin Mocha cupcakes which not only look good but taste divine also!
Did I make you hungry?
I could go on and on forever about the fabulous range of Pumpkin Halloween Desserts Ideas, in fact I am pretty certain I could list one for every day of the year. Before ending this post I thought I would share some more of my creations for you to sample and enjoy!
Creamy Pumpkin Fudge Recipe - goodness this really is divine! If you have time please make this recipe but if not make sure you buy some from your local store before Fall ends!
Easy Pumpkin Chocolate Chip Cookies- cookies are loved by everyone especially when they have pumpkin and chocolate inside!
Banana Pumpkin trifle - a remake on the old classic!
Easy Pumpkin Cocktails - perhaps you want to bypass dessert and enjoy a scrumptious Fall cocktail made with pumpkin.
Which of these is your favorite Pumpkin Halloween Desserts Ideas?