I absolutely love curling up on the sofa with a hot bowl of pumpkin soup on a Fall or Winter's evening, it leaves me feeling very content and full as I have it with other food!
I have lots of ideas on what to serve with pumpkin soup! Find my best Pumpkin soup sides for a complete meal.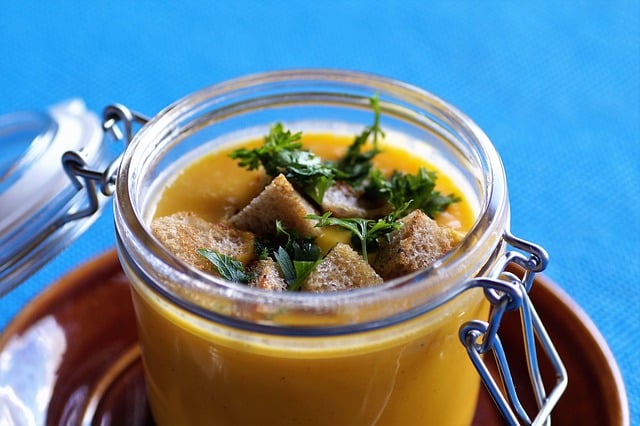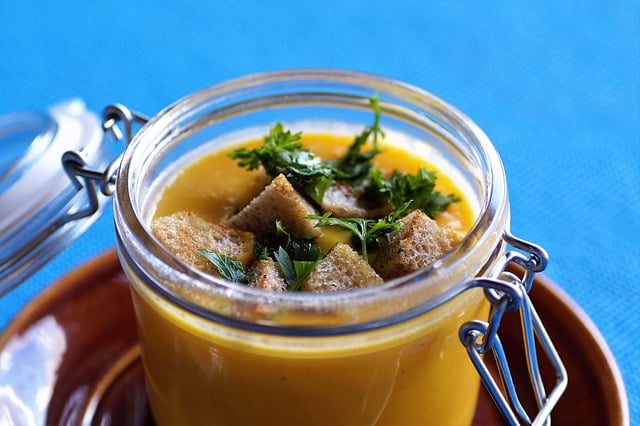 My mother in law insists on making us all a bowl of soup every Saturday when we go to visit! She has still to try pumpkin soup; I am hoping this is the year I convert my entire family into pumpkin addicts so that they can appreciate everything Fall.
Anytime I feel a cold coming on I instantly reach for a bowl of soup. I always find it makes me feel better instantly, especially if it has pumpkin in it.
As I love eating this for dinner as well as lunch, and even in between I always pair it with other food!
You will be surprised at what goes with pumpkin soup from bread to salad to potatoes to meat! There is definitely something to bulk up the calorie content of your favorite recipe.
You can easily have a pumpkin soup dinner if you follow some of my serving suggestions below.
Read on for some great ideas for pumpkin soup sides.
Bread Goes Nicely With Pumpkin Soup
Quite often people ask me what bread to eat with pumpkin soup. In fact bread is the perfect side dish with any type of soup! You can add it into your soup as croutons or keep it to the side.
I generally do not have a best bread for pumpkin soup as it varies depending on your taste and of course your diet. I stick to bread high in fibre when I am on my health kick.
I remember dunking mine in soup as a child and I still do it to this day. Quite often hubby and I have soup and wholemeal bread for lunch. You can have crusty bread also with it, in fact most plain options work well.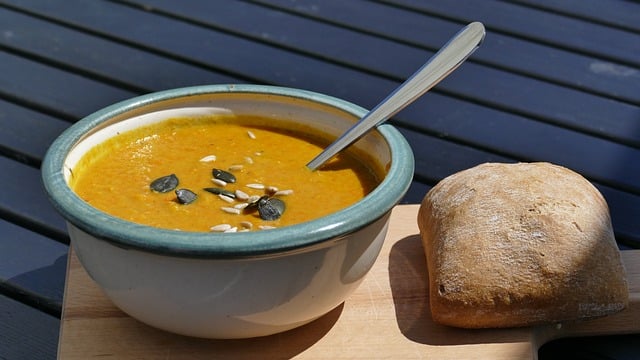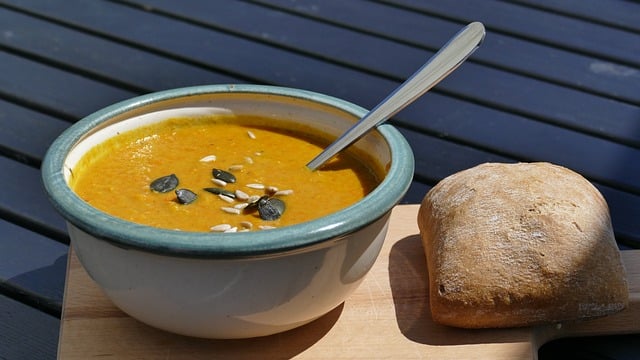 Here in the UK we love to have what we call wheaten bread with soup. It is delicious with a generous topping of butter or margarine.
If I was having a curried pumpkin soup, like my creamy pumpkin coconut soup I would likely opt for some naan bread or poppadoms! This would be a nice Indian themed pumpkin dinner.
Some people have asked me what sandwich goes with pumpkin soup?!
If it were me I would probably pair pumpkin soup with some chicken salad sandwiches or some tuna and sweetcorn sandwiches. There is no reason you can not have any sandwich filling you like though.
If you were feeling hungry you could go for beef and tomato sandwiches. Maybe you have some roast beef leftover from Sunday dinner and want to use it up. What do you think of these soup and sandwich pairings? Are there any others you can think of?
Quite often hubby and I have a soup and sandwich combo for lunch and it's delicious. We do this if we have a busy afternoon planned and no time for coffee stops.
Potatoes and Soup Are The Perfect Combo
Whenever I think of having soup for dinner I automatically assume there will be a decent amount of potatoes added! I think I have potatoes for dinner 5 nights a week!
My absolute favorite is vegetable soup with stewed meat and potatoes, but that's another story!!
Pumpkin and potato are delicious together. My roasted pumpkin soup recipe would be perfect with some nicely boiled potatoes alongside the other vegetables.
I love the way the potatoes soak up the flavour of the soup! You can cut them into tiny cubes if you wish or leave them a little bigger. This is a good weaning food for 1 year olds also as they can eat soft potatoes and soup.
Pumpkin baby food recipes can be hard to come by so maybe I should add this to my list. It is one of those things the entire family can eat, making it convenient and cheap too!
Here in the UK we loved chips or fries as they call them in the USA. You could easily have a plate of chips on the side and use your pumpkin soup as a dip for the chips (now there is an idea if I ever read one!).
Dips are great for pumpkin snacks in general and something I love to munch on a cold evening. Try and make them healthy and go for low calorie offerings or those high in fiber.
Meat Is What To Serve With Pumpkin Soup If You Need Some Protein In Your Diet
Lots of people have asked me what meat goes with pumpkin soup?
If I am feeling extra hungry I will add some pieces of chicken or beef to my pumpkin soup. I love stewed pieces of beef in any soup especially tomato or vegetable!
Chicken tastes amazing in a pumpkin risotto so I can imagine it would equally good in a creamy pumpkin soup.
Serve Toppings With Your Pumpkin Soup Recipe
I have seen lots of pumpkin soups with various toppings, basically anything goes. I would probably add pecans to a creamy pumpkin soup and add pumpkin seeds to a vegan soup.
You can add any type of nuts or seeds. You can also add kale, salad leaves or whatever takes your fancy. Herbs go well with pumpkin too.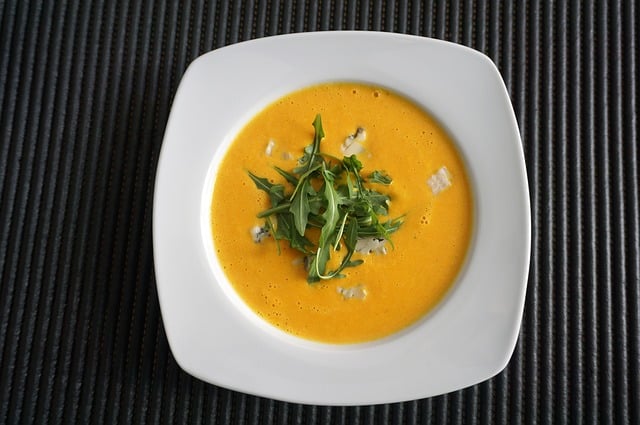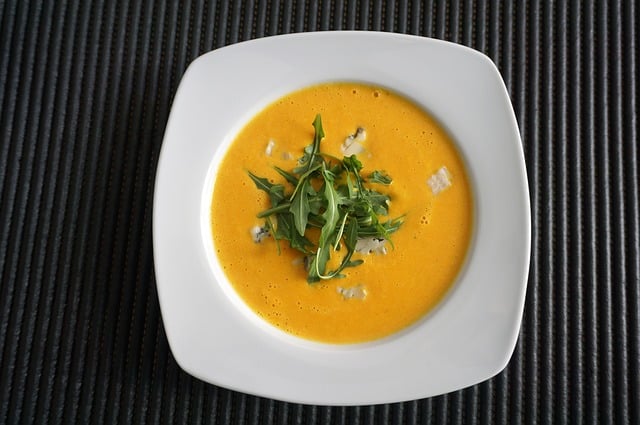 When I am making this for the kids I am always brainstorming ways of getting extra healthiness into my dish as well as make it look pretty. Soups can be a good way to hide extra veggies!!
Recap of What Goes with Pumpkin Soup
Whatever you like!! But basically bread, potatoes, meat (chicken/beef), toppings such as seeds, nuts and salad leaves or kale. Can yout think of any other ideas on what to eat with pumpkin soup.
Now that you know what goes with pumpkin soup you might want to pick one of my pumpkin soup recipes to eat and add some of the serving ideas I mentioned.
Beetroot Pumpkin Soup With Thyme
Creamy Pumpkin Soup With Apple and Sage
I am hoping I have given lots of general ideas on what to serve with soup besides bread. As you have read there are lots of things to pair with soup.
Pin What To Serve With Pumpkin Soup for later