October is upon us and I am in full swing of pumpkin decorating with my latest creation being this baby Yoda pumpkin painting!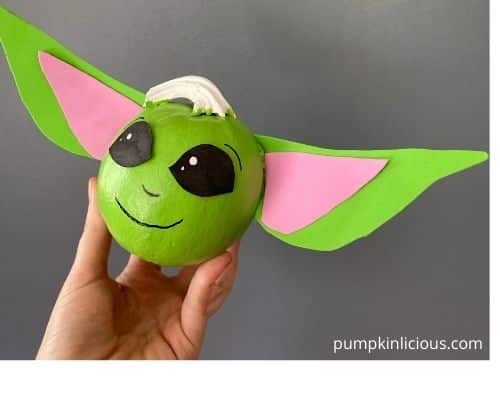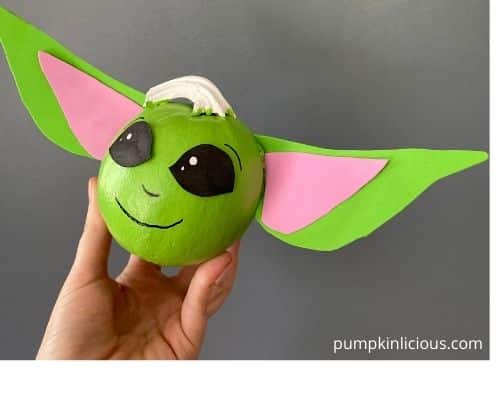 Pumpkin painting is incredibly therapeutic and fun as I found out while painting this Star Wars themed pumpkin! The kids were given an extra week off at Halloween and I was frantically trying to come with things to keep them entertained!
I decided to kill two (well maybe 3) birds with one stone by decorating pumpkins; the kids loved it, my house needed some decor and I needed to get some new things onto my blog!
I had already made some cool painted pumpkins for my 5 year old daughter so I knew I needed one specifically for my 4 year old son!
I decided to go for a baby Yoda! Okay my little guy may not be much of a Star Wars fan but he loves aliens with supernatural powers, and Yoda is perfect.
Please check out my full list of painted pumpkin ideas for all the family
Yield: 1
Yoda Pumpkin Painting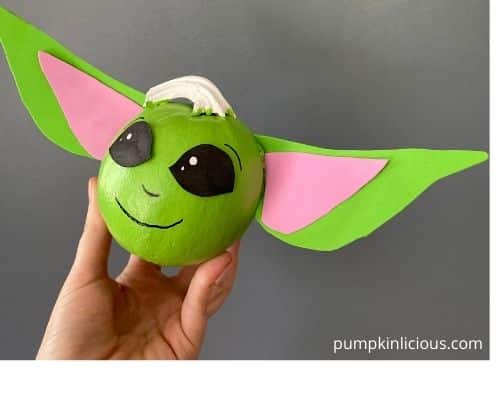 This Yoda pumpkin painting is the perfect no carve pumpkin decoration for Star Wars fans this Halloween
Materials
Small pumpkin
Cheap acrylic craft paints in green and white
1 piece of white card stock
A sharpie marker (I recommend the "sharpie pro")
Green and pink fun foam or card stock
Tools
Medium sized paint brush
Small paint brush
Hot glue gun
Instructions
Paint the entire pumpkin green, and the stem white. It will need 2-3 coats to cover completely. Allow it to fully dry.

Cut 2 green ears from cardstock or fun foam and pink insides for the ears. Glue the pinks to the greens, then glue onto the sides of the pumpkin.

Cut out 2 eyes from white card stock and color them in with your sharpie marker, leaving some white circles for "shinies" on the eyes.

Hot glue on the eyes.

Draw the mouth, nose, and eyebrows with a sharpie marker.

The only question left to ask is where will you put this Baby Yoda pumpkin? Will he sit on your mantelpiece, or maybe he will be the star of the show as a centerpiece on your dining table?
Does he want some company from my Winnie the Pooh pumpkin painting or my Unicorn Bunny pumpkin? Perhaps you might want to search for some other Star Wars pumpkin painting ideas?
If you still want to do some Jack O Lanterns then please check out my Free Advanced Pumpkin Stencils and my Disney Pumpkin Carving patterns if you want something more specific.
Want a Yoda Jack O Lantern? Then try some of these great Yoda Pumpkin Stencils
These yoda pumpkin carving ideas are much harder than the yoda painted pumpkin above in my opinion.
Anthony Herrera Designs has lots of Stars Wars printable pumpkin stencils available including a baby Yoda pumpkin stencil.
Picture the Magic has some easy Yoda pumpkin carving ideas, when I say easy I mean compared to the others available. Personally, I still would rate them as challenging pumpkin stencils.
Do you like this Yoda Pumpkin Painting?