I absolutely adore some hot pumpkin waffle recipes on a cold Fall afternoon!! Whether they are served with bacon or maple glaze I just cannot get enough of them.
Fall is all about eating delicious tasty pumpkin recipes and the ones I will show you here will certainly let you do that. I cannot take full credit for them though as some of top foodies have given me permission to feature their precious waffle recipes with pumpkin right here.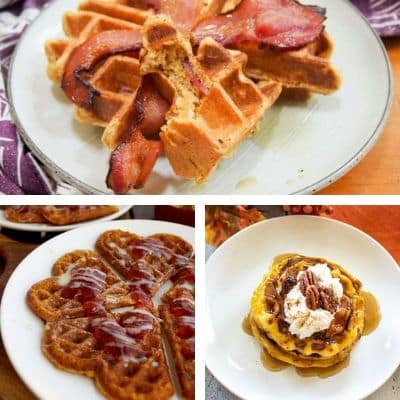 Waffles are so easy to make and can be eaten at any time of the day. I have to confess I am yet to make one of my own but I have tasted lots. Here in the UK potato waffles are a common side at dinner time. They can be served with absolutely anything and pumpkin waffles are no different.
Essentials for Pumpkin Waffle Recipes
Before we get started on these best pumpkin waffle recipes I will give you some advice on waffle makers. You will be needing one of these before making your own.
If you really want to get into the spirit of Fall you will have to own one of the pumpkin shaped mini waffle makers, which are perfect for kids or serving a small snack.
Dash DMWP001OR Mini Waffle Maker Machine for Pumpkin Shaped Individual Waffles, Paninis, Hash browns, & other on the go Breakfast, Lunch, or Snacks - Orange

What's better than a waffle with pumpkin puree? Well a pumpkin shaped waffle with pumpkin puree 🙂 This is what you get with this ultralight pumpkin waffle maker!
This is designed for speed and can make waffles in around 2 minutes which is pretty convenient if you are always last minute and need a quick snack before going out. T
he other massive benefit is that this is non stick. I have to confess I refuse to buy anything that there is a chance the batter might stick because the cleaning up afterwards takes away from the delicious waffle.
These are perfect is you want something cheap and you are only making for 1 or 2 people.
If you need to make for the entire family you will need one of the bigger options below, which also come highly rated 🙂
Presto 03510 Ceramic FlipSide Belgian Waffle Maker

Hamilton Beach 26009 Nonstick Belgian Waffle Maker, 2-Piece

Cuisinart WAF-F20 Double Belgian Waffle Maker, Stainless Steel

Now that we have everything we need we can move onto the most important thing! Yes you guessed it the pumpkin waffle recipes themselves.
Pumpkin Waffle Recipes - Savory and Sweet
These pumpkin waffle recipes will suit everyone I am pretty sure of that. If you want something savory for Breakfast or a sweet treat mid afternoon you cannot go wrong with this list. You have not experience Fall properly until you have had some pumpkin waffles!
What else can I serve with Pumpkin Waffles?
There is no right or wrong answer as what goes well with pumpkin waffles. As I already mentioned I would probably have savory pumpkin waffles alongside bacon, eggs, beans and sausage for a filling Breakfast or lunch.
There is no reason why you cannot havethese alongside salad and a meat dish for dinner using the waffles as the main carbohydrate source. Quite often I make my kids potato waffles instead of mash or fries for their dinner.
With regards to sweet waffles I would pair them with ice cream, you can try my own homemade pumpkin ice cream if you wish 🙂 I would also add some fresh berries and maybe some chocolate sauce.
Do you prefer your pumpkin waffle recipes savory or sweet?